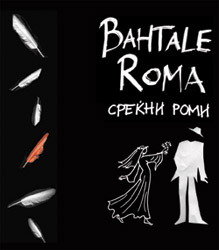 We got the first idea accidentally, while watching the film "Collectors of feathers" by Aleksandar Petrovic.

The strong emotions of the mail characters, turned out to be the main challenge for translating the language of moving pictures into theatre language. That's how the story that fallows one common thread of the characters – search for happiness, was strengthened.

Our story happens in current time, in one closed Balkan gypsy surrounding.
The story begins with a dream – a ritual for search for happiness.

Each one of the characters has its desire for happiness. This drama is developing within one love quartet:
Beli Boro - Chirikli – Mitar – Lenche. At the spotlight of the play is the girl Chirikl whose name, in the language of the Gypsies, means a bird, but also means – a sparrow. (...) At the end the initial dream – search for happiness, ends with reality – a ritual of death.

This project is to represent a sort of theatre home coming of Rahim Burhan and Theatre "Pralipe", that, on its artistic road from Macedonia to Germany, is in Skopje again, reminding us to dream the theatre dream always.