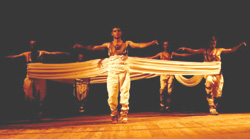 Osman and Spase are one and the same person. One of them had to die. Should the other one die as well? Is death revenge that will arrange all destinies and will lead Balkan into prosperity?
Cveta is aware of the absurdity of the situation she is in and she decides to love in order to go on with her life and to give herself another chance for victory!
Nobody has seen Osman crying. But he cried as well. The good and the evil are equally important and powerful. Which side should prevail is purely human choice. Staging Macedonian a play with Bulgarian theater group, Bulgarian set designer and Macedonian director, resulted into a real unity of ideas and emotions of artists coming from different bacgrounds but with an equally strong aspiration for cultural and spiritual bonding.
"The Balkan Is Not Dead" is a graduate project of Sofia Ristevska, Macedonian director who graduated directing National Academy fot Theatre and Film "Kristo Sarfov", Sofia, Bulgaria. Currenly she is attending her post - graduate studies at the Art University in Belgrade, SCG, in the class of professor Radivoe Dinulovich.