INTERNATIONAL JURY
1. Simon PERRY
President
GREAT BRITAIN
2.Deborah YOUNG
Member
USA
3. Zhivko ZALAR
Member
CROATIA
---
Simon PERRY
President
Born in England in 1943, was educated at Eton College and at King's College, Cambridge.
After an early career in theatre and TV production, Simon Perry entered the British feature film industry in 1974. Over the next eight years, he worked as an independent filmmaker (KNOTS, 1975; ECLIPSE, 1976), as a trade journalist for VARIETY, and as a head of the National Film Development Fund.
In 1982, he set up his own Production Company, UMBRELLA FILMS, which has produced or co-produced 10 feature films to date. These include: Michael RADFORD's ANOTHER TIME, ANOTHER PLACE(1983), 1984-NINETEEN EIGHTY-FOUR(1984) and WHITE MISCHIEF(1988); Richard EYRE's LOOSE CONNECTIONS(1983); Conny TEMPLEMAN's NANOU(1986); Jana BOKOVA's HOTEL DU PARADIS(1986); Gillies MACKINNON's THE PLAYBOYS(1991) and Patrick DEWOLF's INNOCENT LIES(1995, in Competition of the 16th Film Camera Festival "Manaki Bros." in Bitola, 1995).
In January 1991 Mr.Perry was appointed Chief Executive of BRITISH SCREEN FINANCE, the national investor in film development and production. Notable BRITISH SCREEN successes since Simon PERRY took office include: Neil JORDAN's THE CRYING GAME; Sally POTTER's ORLANDO; Mike LEIGH's NAKED (Competition, Bitola 1994, 15th Fest.); Milcho MANCHEVSKI's BEFORE THE RAIN (the best and most successful Macedonian film ever made, among many worldwide awards, Golden Lion in Venice, a994 and AAN for Best Foreign Film, OSCAR NOMINATION for 1995); Marleen GORRIS's ANTONIA'S LINE (OSCAR 1996 for Best Foreign Film and in Competition in Bitola 1996, 17th fest.); Ken LOACH's LAND AND FREEDOM and Richard LONCRAINE's RICHARD III. THE ELIXIR, a film about alchemists to be directed by Michael RADFORD is still being scripted with a view to production in 1997.
PERRY is a long serving member of the British Screen advisory Council, and was recently invited to join the European Film Academy and the Board of Governors of Britain's National Film and TV School. In 1995 the French Government named PERRY a CHEVALIER de L'ORDRE des LETTERS, and he was made a Commander of the Order of the British Empire (CBE) in the 1996 Queen's Birthday Honours.
---
Deborah YOUNG
Member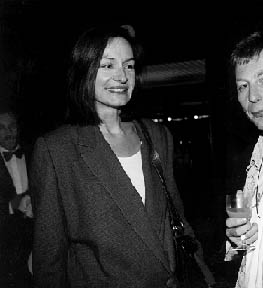 An American writer who has been based in Rome for the last 15 years, Deborah YOUNG is a film critic and regular correspondent for VARIETY and a contributor to such publications as CINEASTE, THE EUROPEAN, IL MANIFESTO and FILM TV. A member of the International Critic's Association FIPRESCI, she has written about movies and film industries around the Mediterranean, particularly in Italy, Turkey, Israel, Egypt, Tunisia, Algeria and Morocco. She is one of VARIETY's Chief correspondents for Eastern Europe, Africa, the Mideast, India and Iran.
Deborah holds a Bachelor of Arts degree from WELLESLEY COLLEGE and a Masters degree in Cinema Studies from New York University. From 1990 to 1993 she acted as VARIETY's Rome bureau chief. For the last six ears, she has been the Program Selector of the New Italian Cinema Events Festival (NICE), a showcase for independent Italian films held annually in New York, San Francisco and Los Angeles, as well as in Strasbourg, Tel Aviv and Morocco. She is also a consultant for a number of other festivals, most recently Venice, where she coordinated the festival's main conference on European and American filmmakers.
Parallel to her work as a journalist and film critic, she has carried on an active screenwriting career, working with such Italian directors as Ermanno OLMI, the TAVIANI Bros. and Dario ARGENTO. She is currently writing and co-producing a TV Series in the United States called CARIBBEAN ON.
---
Zhivko ZALAR
Member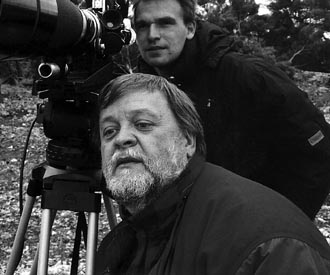 Born 1948 in Zagreb, Croatia. 1966-1968 studied electrical engineering at the University of Zagreb, Croatia. 1968-1973 studied cinematography at FAMU, FILM ACADEMY-PRAGUE, Czechoslovakia, five-year full-time course in film and TV camera department. Graduated with honours. 1974-1975 taught Cinematography at the Academy of Film, Theatre and TV Zagreb, Croatia. Zalar was one of the leading D.O.P.'s in ex-Yugoslavia now continuing his experienced career internationally. He has shot more than 40 feature films and TV Shows.
BIOFILMOGRAPHY of the best films as D.O.P.: KUD PUKLO DA PUKLO (1973, Dir. by Rajko GRLICH); GRLOM U JAGODE (1976, Dir. by Srdjan KARANOVICH); SPECIJALNO VASPITANJE (1978, Dir. by Goran MARKOVICH); LJUBAVNI ZHIVOT BUDIMIRA TRAJKOVICHA (1978, Dir. by Dejan KARAKLAJICH); BRAVO MAESTRO (1978, Cannes Competition, Dir. by Rajko GRLICH); MIRIS POLJSKOG CVIJECA (1978, Dir. by Srdjan KARANOVICH - Cannes '79 CRITIC AWARD); LJUBICA (1979, Dir. by Kresho GOLIK); NACIONALNA KLASA (1979, Dir. by Goran MARKOVICH); ZIVI BILI PA VIDELI (1980, Dir. by B.GAMULIN and M.PUHLOVSKI); SOK OD SHLJIVA (1980, Dir. by Branko BALETICH); BALKAN EXPRESS (1982, Dir. by Branko BALETICH); SOMETHING IN BETWEEN (1982, Dir. by Srdjan KARANOVICH); AMBASADOR (1984, Dir. by Fadil HADZHICH); ZA SRECU JE POTREBNO TROJE (1985, Dir. by Rajko GRLICH); JAGODE U GRLU (1985, Dir. by Srdjan KARANOVICH); DEJA VU (1987, Dir. by Goran MARKOVICH); MOJ TATA SOCIJALISTICKI KULAK (1987, Dir. by Matja KLOPCIC); HOW THE WAR STARTED ON MY ISLAND (1996), Dir. Vinko BRESHAN.
After the ex-Yugoslav period Zalar has moved abroad working in Italy and mostly in Germany being D.O.P. in the films of the Director Karin HERCHER.
AWARDS:
1978: GOLDEN ARENA for the best Cinematography at the annual Film Festival in Pula, ex-Yugoslavia for BRAVO MAESTRO, MIRIS POLJSKOG CVIJECA and LJUBICA.
IANIRO AWARD for best Cinematography, Film Festival in Pula.
KODAK AWARD for best Cinematography, Film Festival in Pula.
1983: GOLDEN ARENA for best Cinematography in Pula for SOMETHING IN BETWEEN.
1987: MANAKI BROTHERS AWARD in Bitola Festival, ex-YU Award for the best Cinematography of the year for DEJA VU by Goran MARKOVICH.
Mr. Zhivko ZALAR presently lives in London.
---
Design by: UNet Web Design Team