BRAT (BROTHER)
Rusija, 1997
CREDITS:

Dir./Scr.: Alexei BALABANOV

D.O.P.: Sergei ASTAKHOV

Prod.Co.: STW FILM COMPANY

10 Kamenoostrovski,

Saint Petersbourg, Russia

CAST:

Sergei BODROV (Danilo Bagrov)

Viktor SUHORUKOV (The Brother)

Svetlana PISMITCHENKO (Sveta)

1 Maria JOUKOVA (Kat)

Juri KUZNETZOV (German)
Colour /35mm/
Rt.: 96 min.
Language: Russian
STORY
DANILO BAGROV comes back home after serving 2 years in the Army. But he is not satisfied with his life in the provincial small town.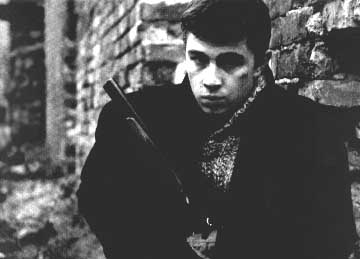 He leaves for St. Petersbourg where his elder brother has been very successful in business for the last few years.
Danilo finds his brother who turns out to be a contract killer...



---
Born in Sverdlovsk, Russia. Diploma degree of Foreign Languages College in Gorky. He has worked as assistant Director at Sverdlovsk Film Studio. Then worked as script-writer and Director in Moscow. 1990: HAPPY DAYS (short);

1995: TROFIM (short).

BRAT is his first feature film.
---
Design by: UNet Web Design Team