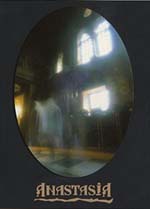 MELOURGIA - Lyrics
SAMUILOVITE SLEPCI

All this began from Samuel.He bore me in misfortunes
He threw me in the worms nest,with snakes and scorpions
Do you know of joy,God's justice ?
It is called mercy,that the life of the Virgin Mary is complete with

I was a withness on the ship and I counted my sorrows
throughout my entire life.
From you to me all there is decay.
From these depths I raise my voice on you.
From the earth I light a candle for you,
for the sanctity of your heritage,
for religion and for the ressurection.
I never knew of Joy or of peace,
neither did I have my sympathy.
I took the cross from the mire and cleansed it
the one that you threw.
DALEKU
You are far from me,where my eyes can no longer see
Lakes and lighlands are distant from us.
I longed for the sun to rise today,
and the first ray to warm up my heart.
This I was starting out to invite you.
to go back to the place where we parted
I believe in miracles,may the stones speak
Damned be who came between us
Blessed be he who unites us
KJANIA ADJAMIJATA
All we have left is solitude,the earth is shoveled
the winters are cold,our beds are made of ice.
Many eagles came,split into three,
they tread on our highlands,dig our eyes out.

They will force people to drink from an empty well,
instead of sun they will give us a blind halfmoon.
Where do you come from,you are without heritage
and your sisters wove black gowns for five centuries.
Kjania The Fumbler
and now you act as if you don't understand from where this light has come from,
that was meant for us,the light in the five hundred summers of darkness.
May our enemies silence,their hands be cut off,from their lips
may bitterness run,because they are harmful.
The swords will heal the wounds
The tears will dry from the eyes
In the soul storms run wild,within the heart spiders crawl.

GORI (SKOPJE)
Shinning serene
Shinning clear
Shinning bright
Shinning definetely
Skopje are shinning
Shinning serene
Shinning clear
Light up the darkness
Shine bright
Shine strong
Wear down the ground
Shine bright
Shine clear
Burn the mire
Shine clear
Shine Skopje
Shine through the mountains
These are our children burn their hair
These are our children warm their hands
These are our children waken them without knowing
These are our children free them from their masks
LAZI ME SESTRO
Mock me sister,if you haven't already.You,sister mock me best.
Hit me my beloved brother,hit me,for it doesn't pain me,coming from you
Throw me in the dark cells,so I won't witness neither sun nor joy.
But nothing can force me not to love you.





All songs composed,arranged,permited by Anastasia
Lyrics by Anastasia
Translated in English by:Eleni Rozali
Typed by:Klime Matoski